Was 2019 a breakthrough year in project management?
2019 almost ends and with it also ends the second decade of the millennium.
This decade was very significant in many aspects of our lives and businesses, one of them being project management and projects in general.
Let's not forget this was the decade in which Digital transformations spread everywhere,
Projects changed focus from scope, to business value and changed culture to embrace change,
Agile and DEVOPS became an enabler of better software development projects (and projects in general),
Data and AI became the name of the game,
New and exciting automations and tools were born,
Organizations changed to an open culture (well, some of them at least)…and so much more.
So what were the 2019 breakthroughs in project management? and in which areas we stand in place?
The most interesting buzz of 2019 was the declaration of the move "from project management to product management" in IT organizations.
With the book "project to product" (by Mik Kersten, Ph.D),
the adoption of redhat who made it also relevant for open source projects,
and the recommendation of Gartner that has predicted this will be a must in 2019 for all CIOs,
this became the new way of looking at projects in 2019.


In high level this concept means that projects should be managed like products in means of value streams and measuring outcomes rather than activities.
"It's time to shift mindsets and embrace behaviors and metrics that quantify success based on outcomes, which is often defined by the software's end users" says Michelle Shuttleworth, a managing director in Deloitte Consulting LLP's Delivery Innovation group.
Many teams have embedded in their DNA a certain way of working, often measuring activities—having meetings, completing tasks, and creating deliverables—rather than placing enough emphasis on outcomes. Product management changes the aperture through which a team views their work.
Gartner also defines the 360 degree of benefits to IT: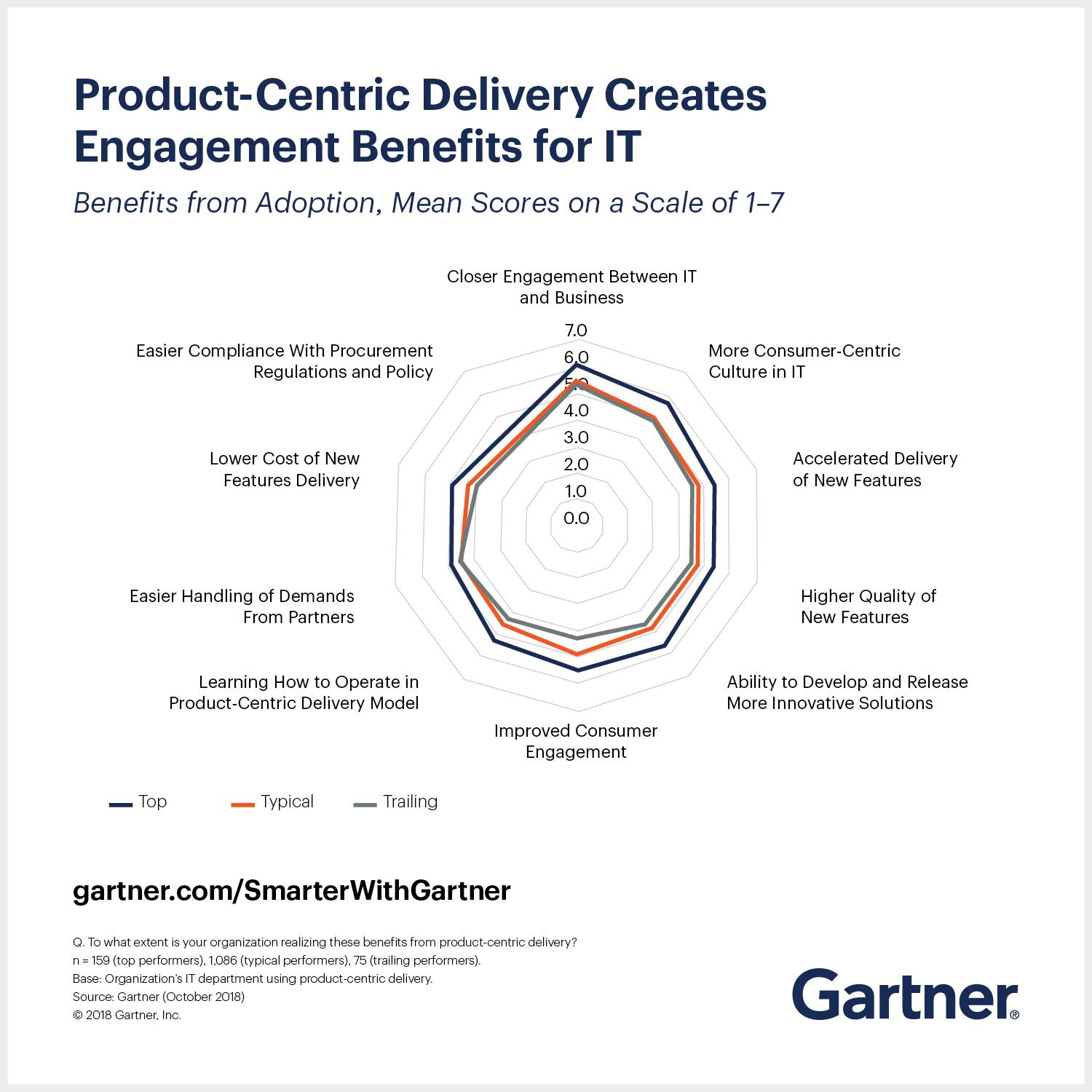 As seen in the diagram by Gartner, the benefits of adopting the "product based" delivery are very high in all aspects and should bring significant improvement for IT.
But, is it really a 2019 breakthrough…?
As most IT organizations strongly believe they are already totally focused on outcomes rather than activities, not for sure.
Most of them don't see this as a real change. The old-fashioned way of looking at projects in terms of budget- tasks – timeline is long gone in most IT organizations as they are requested day after day to deliver value. Plus, the new terminology of building a "product" in IT is a bit confusing.
So, it might not be the change it was meant to be.
But still, even if not a breakthrough year, there are few aspects in which a step forward was made in 2019:
Improvised and mixed methodologies – A clear trend that evolved this year. We learned more to "mix and match" the right methodology for the right project. Most project leaders understand now better than before that there is no need to stick to one specific methodology or practice, but merely, use different practices together to combine the right process.

Better tools for global and remote management – we're getting better and better in remote management, at least from the technical aspects. It becomes so easy to have global team meetings, share, communicate and keep in close touch.

Much better understanding of value – yes, we were focused on outcomes before, but every year we make another big step forward in understanding the importance of value focused delivery, as well as ways to do the right things right. Most of the young managers talk about it passionately and are eager to bring value.


Unfortunately, there are still project management aspects that remained very challenging even at the end of this millennium:


Matrix challenges – Most managers are still struggling to manage effectively in matrix organizations, and the more the matrix is complex, the harder is the struggle and consumes more of the effectiveness.

Still struggling re-work and waste – as flexibility and welcoming change become an integral part of project management, managers are still looking for good ways to manage the side effects – rework and waste.

Project management tools/software – still lack the "one stop shop" to manage all aspects of the project in one friendly place, including strategic and tactical aspects of the project.

Prediction and real use of data and AI for project management are still at initial stages.


So, with the great changes and great progress we have seen in the second decade of the millennium, there is still a lot to aspire for. I have no doubt it is going to be an even more exciting decade in front of us, probably one that will better address the flexibility and complexity of project and change management.
What is left to do is to prepare for surprises, to watch closely, and to enjoy the ride!
Have a GREAT 2020!!!!
Gartner also defines the 360 degree of benefits to IT: